Wild Rice Apricot Stuffing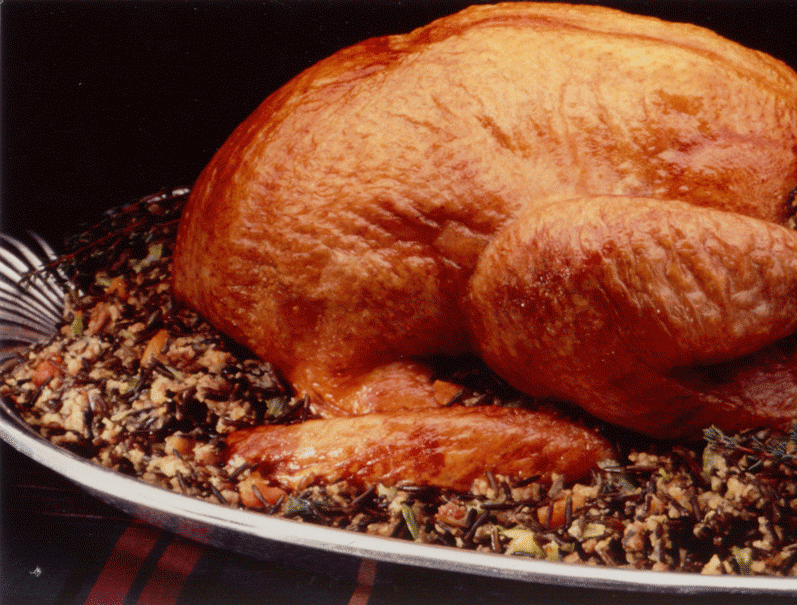 12 oz pork sausage
3/4 cup sliced green onion
3/4 cup chopped celery
1/4 cup butter
1 cup bread crumbs
3 cups cooked wild rice
3/4 cup chopped dried apricots
1/2 tsp thyme
1 tsp rosemary, crushed
1/4 tsp salt
1 cup chicken broth
1 egg, beaten

Apricot Glaze:
1 jar (12 oz) apricot preserves
2 tbsp lemon juice
1 tbsp butter
In medium skillet, brown sausage; drain and set aside. In small
skillet, saute onion and celery in butter until tender. In large bowl,
combine sausage, onions, celery, bread crumbs, wild rice, apricots,
thyme, rosemary and salt. Stir in broth and egg. Place in buttered 2 quart casserole. Cover and bake at 350°F for 25 minutes. Uncover and continue baking 10 minutes. (Will also stuff a 10 lb turkey.)

Glaze. In medium saucepan, combine glaze ingredients. Bring to a
boil, reduce heat and simmer 10 minutes. Serve with turkey over apricot stuffing.
Recipe compliments of the Minnesota Cultivated Wild Rice Council
Return to search page